Mamaw's Orange Soup.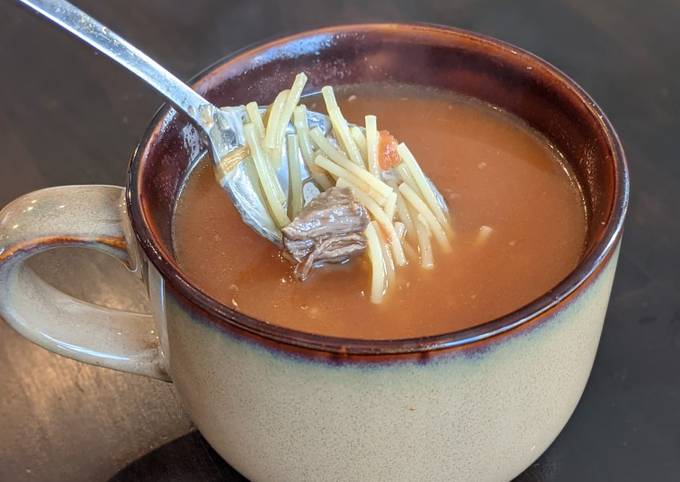 You can cook Mamaw's Orange Soup using 7 ingredients and 16 steps. Here is how you cook that.
Ingredients of Mamaw's Orange Soup
You need 2 lbs of chuck roast (cut in 4" chucks).
You need 2-28 oz of cans of whole tomatoes.
Prepare 16.9 oz of container of beef bone broth.
It's 2 of celery stalks.
Prepare 1 of large yellow onion.
You need of Salt and pepper to taste.
It's of Romano shredded cheese.
Mamaw's Orange Soup step by step
Brown the chuck roast chunks in large pot with vegetable oil, salt, and pepper.
Add two 28 oz cans whole tomatoes, cutting the tomatoes with a knife while still in the can..
Add bone broth.
Add 2 stalks of celery cut in half and add some leaves, and 1 large onion quartered.
Bring to boil, then cover and turn down to a little higher then a simmer, so that you see the liquid move a little.
Simmer for 30 minutes.
Press the tomatoes against the side of the pan….slowly as they will squirt).
Taste, add salt and pepper and additional water as needed. Be careful not to water down the broth.
Cook until meat is tender, (about an hour) Stir 2-3 times while it cooks..
Remove beef and set aside. Take out onions and celery and any pieces of tomatoes left and squeeze them against the side of a strainer, then discard..
Clean and shred meat and store in a separate container. Add a little bit of broth to keep the beef moist..
If you have an extra day, place the pot in fridge over night and skim the hardened fat off the top the next day..
Cook your choice of pasta in the complete soup broth.
Add shredded beef.
Serve with grated romano cheese.
Eat with buttered crusty bread. Use leftover beef to make sandwiches!.